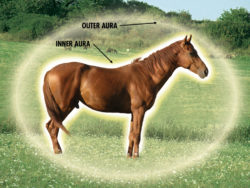 Why This Training?
If you have horses, you have medical situations.  No question.
What we need to ask, however, is how do you want to approach the inevitable medical issue.  Would you like to add some skills to your toolbox that can support and strengthen your horse's wellness?  These same skills can also support recovery from an injury or illness, as an adjunct to your standard veterinary care.  It's the best of both worlds.
How does Pranic Healing work so well in so many areas your horse's life, you may ask? Because everything is energy! Your horse has a physical body and an energy body.  Once you acknowledge this existence and understand how to work with them, you can help accelerate your horse's self-healing ability. The key to health and quality of life lies in the well-being of your horse's energy body, as they greatly influence the functioning of physical organs.